FENCE STRIPS
---
PROTECTION AND PRIVACY ON PROPERTIES, TERRACES AND BALCONIES

ORIGINAL THERMOPLAST®
FENCE STRIPS
---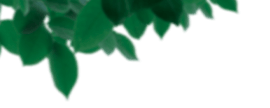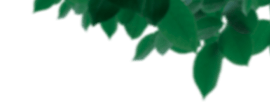 Modern
design
Uncompromising
quality
Favorable
price
Made
in Poland
Thermoplast® is a recognized in Europe manufacturer and supplier of original fence cover systems, including fencing strips made of top quality polypropylene.
The original Thermoplast® fence strips allow to create modern, aesthetic and functional fence systems for people who want to maintain their privacy on properties, in the garden or on the balcony.
Thermoplast® fence strips are ideal as covers for 2D (no ribs) and 3D (with ribs) fence panels as well as traditional mesh fences and balcony railings. They provide privacy and protection against wind, blown leaves and snow.
Our strips are made of top quality polypropylene, which makes them resistant to UV radiation and low temperatures. They are characterized by color and shape durability even in very changeable weather conditions.
They keep their aesthetic appearance for a long time, do not require maintenance and are easy to keep clean. And, what is important, fence strips are adapted for self-assembly, without the need for professional knowledge and specialized tools. Assembly is quick and easy.
Our offer of fence strips is very rich in terms of the method of assembly, patterns, colors and size. The offer is complemented by mounting clips, which provide an aesthetic finish and ensure the stability of the assembly of the strips on the panel.
Thermoplast® fence strips are solution for years!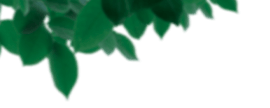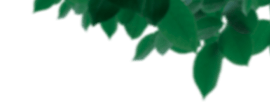 APPLICATION
---
PRIVATE
PROPERTIES
ESTATES
COMPANIES,
WAREHOUSES
ADVANTAGES
---
ensuring
privacy
Our tape fencing guarantees discretion and privacy for residential properties, terraces and balconies to protect against unwanted outside observers.
protection against
wind and snow
Our fence strips provide ideal protection against adverse weather conditions. They are built to withstand strong gusts of wind - therefore reducing the risk of property damage. They also offer protection against snow which may be blown onto your premises or your balconies during times of wintery weather.
noise
reduction
Fence strips reduce unwanted noise from outside your property. Therefore, they are ideally suited for use in areas with high noise levels. By reducing noise levels, they improve the quality of your everyday life.
functionality
Fence strips are a solution we can offer to everyone due to fast and easy assembly which requires no technical skill or professional equipment. The use of polypropylene makes our fencing strips UV-resistant. No maintenance is required.
ORIGINAL THERMOPLAST® FENCE COVERS
GUARANTEE THE HIGHEST QUALITY PRODUCTS
MADE OF
POLYPROPYLENE
UV RESISTANT
FROSTPROOF
NO MAINTENANCE
REQUIRED
DURABLE
COLORS
FAST AND EASY
ASSEMBLY
Strips Range
---
HORIZONTAL ASSEMBLY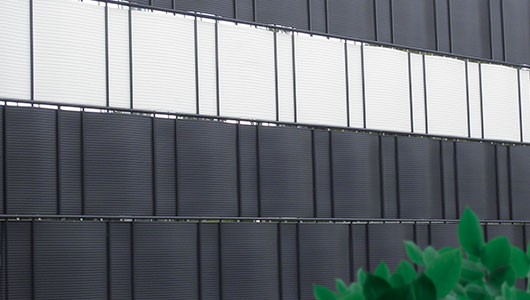 CLASSIC, SMART, ORANGE SKIN, BASIC, RATTAN
Polypropylene fence strips, perfect as a filling for 2D (no ribs) and 3D (with ribs) fence panels and traditional mesh fences, as well as a balcony cover. Thanks to the wide range of patterns and colors, different sizes of the strips, it is possible to create a durable fence that suits individual tastes. In a short time, you can turn your garden or balcony into a private area.
VERTICAL ASSEMBLY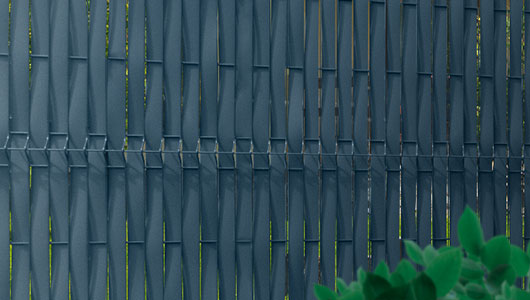 Simple Line System
Functional cover for 2D (no ribs) and 3D (with ribs) fencing panels. The strips are made of UV-resistant polypropylene, they are color and shape stable. Vertical way of mounting is quite simple and does not require the use of specialized tools. The Simple Line system will give the fence original look. Each set consists of 60 meters of a tape and 100 assembly clips.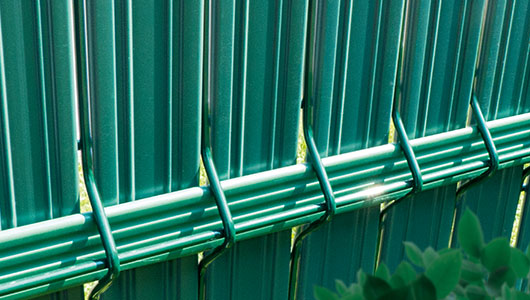 THE GUARD SYSTEM
The Guard system is a novelty on European markets. Each set consists of slats made of top quality plastic and is a perfect cover for 3D fence panels (with ribs). The length of the slats is adjusted to the height of the panels available on the market. The Guard is a fence cover for people expecting unique, modern solutions.
MOUNTING CLIPS
---
The function of the fastening clips is to stably and permanently secure the strips on the panel. The strong grip of the clips prevents the strips from slipping out under the influence of strong wind or mechanical impact. At the same time, their shape and color is adapted to the strips and constitute an aesthetic finish of the panel. Various types of fastening clips enable adaptation to appropriate wire thickness.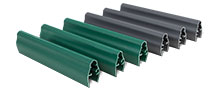 UNIVERSAL CLIP AP 828
End profile with strong grip suitable for any wire thickness in the fence panel.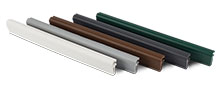 STANDARD CLIP AP 785
End profile used for fence panels with a cross-section 4 to 6mm wires.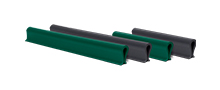 OMEGA CLIP AP 888
End profile used for fence panels with wires with a cross-section 3.5 to 5.5 mm.
All production processes at Thermoplast® are certified in accordance with ISO 9001, and the quality is controlled by our specialists throughout the production process.